Licens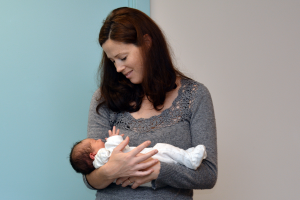 ed child care centers are programs with six or more children and are licensed by the State of New Jersey. Licensed child care centers serve children ages 6 weeks and older. In order to be licensed, a program must meet minimum health and safety, program, staffing and training requirements. Licensing does not insure quality, but it does set minimum standards that centers must maintain. For more information, see the Manual of Requirements for Child Care Centers 
The State of New Jersey, Department of Children and Families, Office of Licensing, licenses these programs. To obtain more information about their process click here 
According to the Manual of Requirements for Child Care Centers there are set staff to child ratios,
Adult/Child Ratios for Child Care Centers
Under 18 months…………………………..1:4
18 months to 2 ½ years…………………….1:6
2 ½ years to 4 years……………………….1:10
4 years………………………………………1:12
5 years and older……………………….…1:15
While each center may meet the same requirements, centers can vary greatly in program content, equipment, staff development, philosophy and cost.
Head Start
Head Start is a federally funded program through the United States Department of Health and Human Services, Administration for Children and Families. Head Start promotes the school readiness of children birth to age 5 from low-income families by enhancing their cognitive, social and emotional development. While Head Start provides child care services to children in care, they also provide comprehensive services to enrolled children and their families, which include health , nutrition, social services and other services determined to be necessary by family needs assessments. Head Start services are designed to be responsive to each child and their family's culture.
For more information on Head Start, click here.  Or for more information on Head Start locations in Monmouth County, please contact Child Care Resources.
Licensed child care programs can become accredited. Below is a list of each organization and their website:
To search for Licensed Child Care Centers in Monmouth County, click here. 
To contact a Child Care Resources Referral Specialist, for child care referrals and more information, click here
Or you may call during business hours, at 732-918-9901, Ext. 100
Child Care Resources handles all child care referrals in Monmouth County. If you are looking for child care outside Monmouth County, please click here 
Please click here for Child Care Resources' "A Parent's Guide for Choosing Quality Child Care" for additional regulatory information and tips to assist you in your child care search.
The child care providers that are referred to families are for reference purposes only. Child Care Resources does not license, endorse or recommend any specific provider and cannot guarantee the quality of available care. It is the responsibility of the parent or guardian to meet with providers in order to determine the child care arrangement which best suits the family's needs.
All employees and volunteers are bound to respect each individual's rights of privacy. All personal information given to an employee or volunteer by any member of the community will be regarded as confidential