Under the Work First New Jersey (WFNJ) or New Jersey Cares for Kids (NJCK) child care subsidy programs, funded by the New Jersey Department of Human Services, Division of Family Development (DFD), clients may choose Family, Friend and Neighbor (FFN) child care for their children. This allows families to choose relatives or non-relatives to care for their children.
FFN providers, also known as Approved Homes, must be selected by a client who is eligible and receiving child care subsidies under either WFNJ or NJCK. FFN providers will then be paid for providing child care under these programs after meeting the following provider requirements:
Receive clearance on a Child Abuse Record Information (CARI) background check to insure that there have been no accounts of child abuse in the provider's history
Any person 14 years of age or older in the household must also complete a CARI background check
A home inspection of where the child care will take place
An orientation provided by Child Care Resources staff that reviews essential health and safety policies and trainings, specified by DFD
Providers are required to maintain CPR/First Aid certification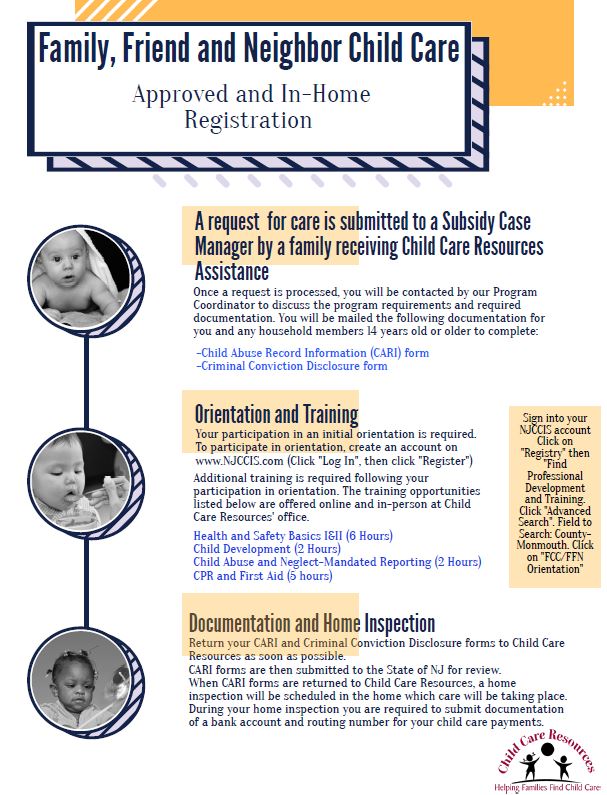 For more information on FFN child care, click here, please contact Eduardo Magliulo, Home-Based Child Care Coordinator, at 732-918-9901, Ext. 125 or at emagliulo@ccrnj.org.